Three years ago Jim and Nicole Shea, owners of FOE Gallery, applied for a grant from the Northampton Arts Council to have a mural painted on the back wall of the gallery's building on Main Street.  The historic brick structure on 114 Main St. spans four stories and it's back looks over the Armory parking lot.  The application was denied the first time around, but awarded in May of 2015 to artist Ramiro Davaro-Comas, an artist the couple has worked with over the years.  He had painted a mural in FOE's Pleasant Street location, and two in their shop on Main Street.  In December of 2015, FOE left their location on Main Street, where the Grateful Hound now resides.
Davaro-Comas is originally from Argentina and grew up with comic books and cartoons, drawing inspiration from the "funny little characters" of Fliesher Studios, creators of Betty Boop and Koko the Clown.
"The early illustration I was seeing was a lot of comic book stuff from Argentina as well as a lot of Hanna Barbera cartoons and early cartoons that they'd pass on Saturday mornings and Sunday mornings that wasn't necessarily the most up to date stuff people were seeing [in the United States]," Davaro-Comas said.
The street artist attended Umass Amherst, and lived in Northampton for six years before spending time in Europe and eventually ending up in Brooklyn, New York where he now lives.
As he began working on the mural, Davaro-Comas carefully counted bricks and laid out tape, something he normally does not do. "I wanted to make sure when people saw it it was precise, and that they could immediately relate to it without seeing a squiggle that, to them, might seems sloppy. Usually in New York I won't do that and it will still look okay. I wanted to take the extra precaution and use tape."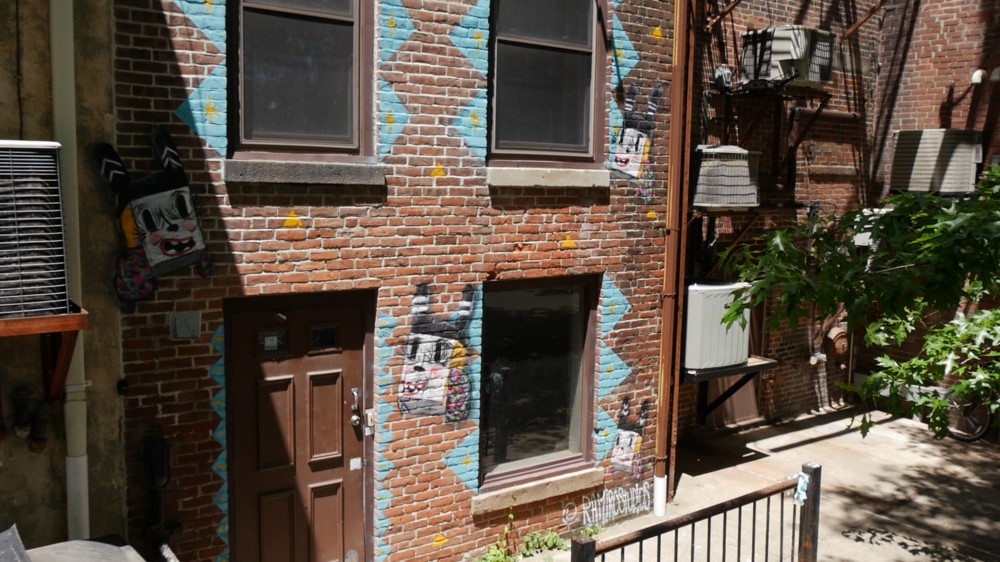 The design features several grinning, square-faced characters with tall black ears, bright red lips, and a scraggly stubble created with acrylic marker. Unlike most murals, the artwork does not cover the entire space, but is scattered throughout the wall.
Davaro-Comas says " I really wanted to leave that original facade there but also put in some small little details and characters and things so that when someone is walking through, the mural is not necessarily jumping out at them but it's a subtle thing. When they look over, they see something and it's a new thing people are finding every day. The whole concept was to really to just give more color and life to Northampton where there's a lot of brick."
For the Sheas, they're glad to see more public art in Northampton.  Nicole said "We travel a lot and we like to see the style in different places and what's being done. We think Northampton should have that too because there's a lot of creative, talented people here."
Davaro-Comas recently collaborated with FOE to create a book of his characters, with captions by Nicole called "Bros & Foes" available on FOE's website.